Twenty-five years ago, the Big Five were limited to the Lowveld and a few small places in northern KwaZulu Natal.
Today, you will find Big Five game reserves in the Valley Bushveld of the Eastern Cape, the Karoo of the Western Cape and throughout the Highveld areas of South Africa's higher altitude provinces.
These private game reserves offer opportunities and luxury that our world famous National Parks cannot. Rhinoceros, wild dog and cheetah would be in far more danger if it were not for the conservation efforts of private game reserves.
They may be expensive for our local pockets, but, in my experience, they still offer value for money when you consider the fantastic food, luxury accommodation and great game viewing.
At Home Food and Travel, we visited private game reserves throughout the country to see what each has to offer.
Aquila Private Game Reserve – Cape Town; Tel 021 430 7260
By Maritsa Beattie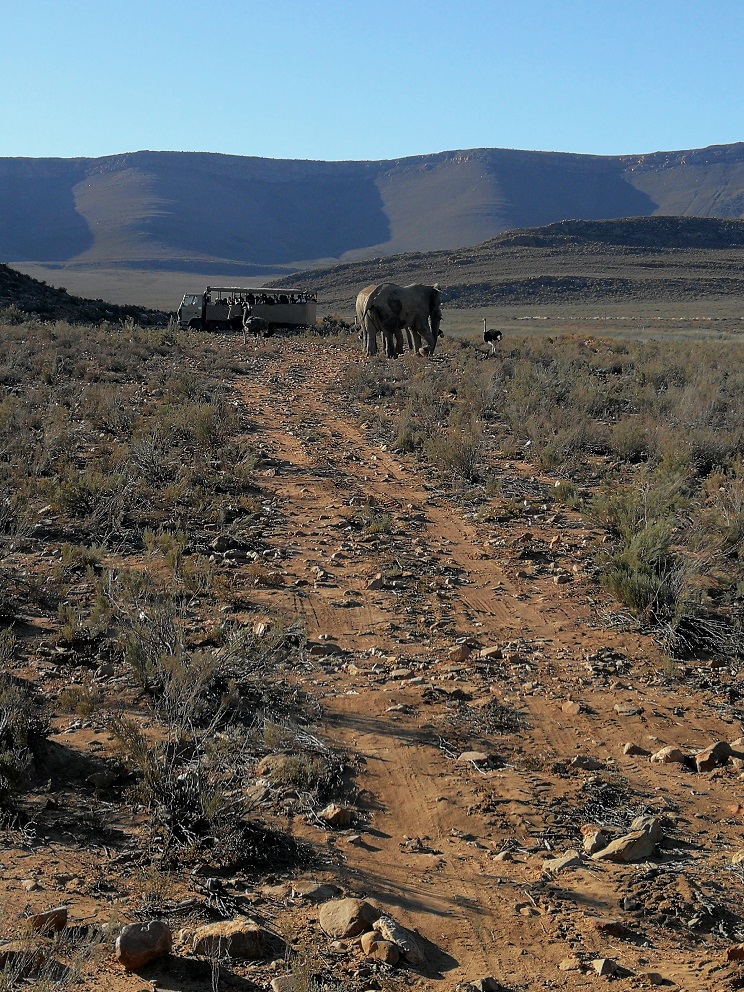 Aquila Private Game Reserve is an easy two-hour drive from the Mother City through the Huguenot tunnel on the N1. The two hours just fly by thanks to the breath-taking scenery of the Hex River Valley and, despite the worst drought in 100 years, the Karoo. 
Aquila is a 10 000 hectare conservancy set in the breathtakingly beautiful Karoo and home to elephant, lion, buffalo, leopard and rhino amongst a host of other wildlife. Acclaimed for service excellence, renewable energy, social responsibility and conservation programmes, Aquila is one of the leading game reserves in the country.
I found this game reserve to be more than just an unforgettable wildlife outing; it was an experience in luxurious African hospitality, traditional culinary flair and service excellence. It left me feeling proud of our wonderful country and its many cultures.
The accommodation is luxurious and can be taken at the lodge itself or in the more private, wood and stone-built cottages.
The lodge offers a spa, restaurant, infinity pool, various bars, a curio shop and children's entertainment area.
I found the staff to be extremely helpful in catering for my every need, my dietary requirements and my busy schedule.
Having visited game reserves in other parts of the country, I found the game drive in the Karoo to be very different and very interesting. The scenery, the plants and the animals' habits are very different to those of the Highveld and Lowveld.
Safaris may be enjoyed on horseback or on quad bike as well as from the traditional open game vehicle.
Dinner was a medley of mouth-watering South African dishes set around a fire pit. To be outdoors in the Karoo on a cloudless night is an experience all on its own. I will never forget the stargazing.
For more information, visit www.aquilasafari.com online or email res@aquilasafari.com or phone 021 430 7260..
Botlierskop Private Game Reserve – Little Brak River; Tel 044 696 6055
By Linda Barnard
On arrival at The Village Lodge at the 4 200 hectare Botlierskop Private Game Reserve on a recent Saturday afternoon, we were warmly welcomed by Shamolene, the manager on duty.
We were booked into their amazing Watermill Cottage, which consists of two smaller private bedrooms, with 180-degree views over the adjacent valley. We had a private entrance, a patio and parking close to our room.
Our room was elegantly-decorated and equipped with air-conditioning, coffee/tea/bar facilities, an indoor fireplace, electric blanket, mosquito nets, an electronic safe, an en-suite bathroom equipped with guest amenities (even bathrobes and slippers) and free Wi-Fi.
We took some time to enjoy the views of the valley against the backdrop of the majestic Outeniqua Mountain Range, before going out on a late afternoon game drive.
It turned out to be one of the most exciting game drives that we've ever experienced. Our guide, Jade, made sure we enjoyed every moment as we encountered lions, elephants, rhinos, buffalos, giraffes, rare black impalas, bird life, zebras among many more species. To end it off, we were treated to drinks, biltong, nuts, chips and even chocolate brownies.
Back at the Lodge, we enjoyed supper at Bellevue – with its warm and welcoming atmosphere, surrounded by a cheerful group of visitors and friendly, competent and well-trained staff members. The menu has a huge variety of mouth-watering wood-fired pizzas, steaks, roosterkoek buns, etc. to choose from, at very reasonable prices.
After a peaceful night's rest in our luxurious cottage, we enjoyed breakfast, walked through the expansive veggie garden, which supplies the lodge with freshly-picked herbs and vegetables, and started packing.
We just couldn't leave the place behind so quickly – took a drive through the nearby situated Friemers' Heim settlement, and went back to Bellevue for the best pizzas ever!
Botlierskop Private Game Reserve has a reputation for outstanding service, cuisine, and hospitality.
For more information, visit www.botlierskop.co.za or email info@botlierskop.co.za or call 044 696 6055.
Amakhala Game Reserve – Addo; Tel 021 424 1530
By Katherine Grewar
Feet up, drink in hand, soaking up the sun while watching a group of Zebra drinking from the waterhole a few metres away is how my stay at Hlosi Game Lodge started.
Hlosi Game Lodge, an hour's drive from Port Elizabeth, is situated in the malaria-free Amakhala Game Reserve in Addo in the Eastern Cape.
Accommodation on offer at Hlosi includes four double suites, four luxury tents, four family tents and two double-roomed family suites, all accessible via a wooden walkway a short distance from the main lodge.
The Main Lodge with its lounge, dining areas and bar, offers a refined setting of dark woods and interesting African decor on display. Guests are also able to enjoy the large deck outdoors overlooking the waterhole nearby. There is also a pool for those hot summer days.
During my visit, I experienced something truly special; an intimate stay in the African bushveld in a luxury safari tent. The luxury tents are tastefully decorated and offer all the modern conveniences including full en-suite bathrooms, an air conditioner, electric blankets and a minibar.
The tent opens up onto a wooden deck offering not only panoramic views of the valley, but immediacy with nature. The cry of a pair of Jackals late in the evening and waking up to Impala grazing just outside was testament to this.
From full continental breakfasts, lunches with tea and delectable sweet eats on the deck to fine dining in the evenings, the food was truly exquisite.
With our fantastic game ranger, Lucky, we were able to encounter lions, elephant and rhino amongst many other antelope on our game drives. Hlosi also offers night game drives, stargazing, birding, bush walks, archery, spa therapy and fishing.
After a stay at Hlosi Game Lodge, you will leave with a new love and appreciation for the African bushveld.
For more info, visit www.hlosilodge.com, email reservations@lionroars.com or call 021 424 1530.
Komati Gorge Lodge & Wildlife Reserve – Machadodorp; Tel 017 843 3920
By Linda Thunemann-Faasen
Mpumalanga lived up to its name as the place of the rising sun during my memorable safari adventure at Komati Gorge Game Reserve.
Komati Gorge is located between Machadodorp and Carolina. I had decided to stay in one of their River Lodge Suites, which are surrounded by breath-taking mountain views. There are seven different suites to choose from, each offering spectacular and unique views of the surrounding landscape.
They offer a variety of activities – of which one is the safari tours that start either at 8:00 am or at 4:00pm. The safari van can take about nine people at a time, and the tour costs R180 per person.
The safari lasts one-and-half hours and allows one to explore this 25 000 hectare wilderness and its beautiful sights, animals, birdlife, flora and magnificent waterfalls on the Komati River.
A safari tour at Komati Gorge offers a chance to see kudu's, zebras, eland, blesbuck, red hartebeest, blue wildebeest, impala, warthog as well as carnivores like jackals, caracal and bush cat and leopards in their natural habitat.
The afternoon safari is also accompanied by sundowner snacks that include a platter of biltong, nuts, cheese and a drink of your choice.
Besides game drives, the many other activities Komati Gorge offers is 4×4 drives, canoeing, rock climbing, fishing, hiking, horse riding, rafting, mountain biking, paintball, a rejuvenating spa, archery, and the popular Jungle Bush Gym.
For more information, visit www.komatigorge.co.za, email info@komatigorge.co.za or call 017 843 3920.
Plumari Private Reserve – Magaliesberg; Tel 028 313 2306
By Evann van Resnburg,
At the Plumari Private Reserve, you will not want to just stay a while; you will want to stay forever.
Nestled between two of Gauteng's most scenic regions, Hartebeespoort and Magaliesberg, the reserve is a dream destination for nature and animal lovers.
Animal lovers can expect to see up to 20 species of larger game while on game drives, including the Big Five, as well as the different species of antelope and plains game. Some of the rarest animals can be seen and include: Sable antelope, King Buffalo, Nyala, Black Impala and a Golden Wildebeest.
The reserve also has an abundance of birdlife and is crossed by the Hekpoort River, which is where Hippos can be spotted.
For your accommodation, you have the option of staying at any of the two sister properties, Askari Lodge and Warthogs Bush Camp, which are basically located 2km from one another. Both properties are highly recommended and offer a unique service experience.
The reserve offers plenty of fun-filled activities for families, these include: two daily game drives (two hours), 4×4 trails, hiking and birding, clay pigeon shooting, horse riding, Plumari Museum visits and much more! As if all of this isn't enough, they also offer elephant experiences – where you can get up close and personal with two of the resident elephants, Damara and Nzewe.
Daniela McCormick, Director at Plumari Private Reserve, says; "Our beautiful Reserve offers a Big 5 experience, spa-treatments, conferencing, dining and 4-Star accommodation on a reserve exceeding 5 000 hectares. The best part – we're only one hour away from Johannesburg and Pretoria!"
So what are you waiting for? Go and discover this hidden gem and trust me you won't just want to stay a while.
For more information, visit www.plumarireserve.co.za, email info@plumarireserve.co.za or call 011 431 4092.
Premier Resort Mpongo Private Game Reserve – East London; Tel 043 742 9000
By Darren John
An easy 20-minute drive from East London, the Premier Resort Mpongo Private Game Reserve offers a fantastic experience to both locals and international visitors alike. With its rolling hills, river valleys and luscious surroundings, it caters to the heart of even the keenest eco-tourist.
This exquisite 3 500 hectare conservancy can cater for all needs, from romantic settings for couples, to luxurious options for corporate visitors and up-market dormitory facilities.
Mpongo offers game drives, safari walks, team-building and conference facilities while the Huberta Restaurant will keep you well fed with fantastic cuisine and a variety of wines – all with the view of an array of wildlife at the adjacent waterhole!
Accommodation settings include the Huberta Lodge, with its beautiful African-colonial style rooms; the Indlovu Lodge, with unhindered hilltop views of the reserve; the Umthombe Bush Villa, offering luxurious, secluded, full service exclusivity for private or corporate guest groups; and, of course, the River Lodge, with spectacular views of the Umpongo River and a choice of deluxe rooms, suites and chalets.
Throughout, buck, bird and hog roam freely, undaunted by guests and adding to Mpongo's unique relaxation experience – I can highly recommend a care-free weekend away!
For more information, visit www.premierhotels.co.za/hotels/eastern-cape/east-london/mpongo-private-game-reserve or email info@mpongo.com or call 043 742 9000/2/4.
Manyoni Private Game Reserve – eThekweni; Tel 086 111 4789
By Alison Kirk
Situated in the rolling hills of northern KwaZulu Natal, Leopard Mountain Safari Lodge is part of the amazing Manyoni Private Game Reserve.
This 23 000 hectare wilderness is home to the Big Five and a fantastic variety of bird life – manyoni being Zulu for "the place of birds".
There are seven different lodges within the game reserve and it is to Leopard Mountain that my husband and I have paid several visits.
This is a very comfortable 4-Star lodge with nine stone chalets nestled in the cliff tops with magnificent views of the Msunduzi River below.
My favourite aspect of this lodge is the private pools on the veranda of each chalet. The chalets are well-spaced and completely private and the pools are just wonderful for a refreshing plunge after time spent in the bush.
The chalets are well-appointed with bushveld décor, thatched roofs, crisp linen and sparkling bathrooms.
At the Main Llodge, you will find the lounge, restaurant boma and an Africology Spa. Leopard Mountain Safari Lodge is all about relaxation and one of the main reasons why we visit.
The meals and picnics are excellent and are another of the reasons why we have visited Leopard Mountain Safari Lodge more than once. The whole atmosphere in the dinner boma is wonderful.
The game drives depart just after sunrise and a hot mug of coffee and the odd rusk or two. No game reserve guarantee's that you'll see all of the Big Five, but, to my mind, the anticipation and hopefulness are all part of the experience.
We have had some great sightings, particularly of the black rhino and wild dogs. There is another game drive in the late afternoon. Their guides are knowledgeable and entertaining.
For more information, visit www.leopardmountain.co.za, email info@leopardmountain.co.za or call 086 111 4789.
Follow more RNEWS articles, subscribe to our YouTube channel and for breaking news LIKE us on Facebook. For news on the Western Cape click here.