From humble beginnings in 1994, John Prinsloo began to service and repair vehicles from his home. With two stands and a love for cars, John eventually moved his part-time business to Montague Gardens in 2001.
Maria, his wife, with her creative background, posted a small advert in the local newspaper, in the hopes that it would bring in some business.
The advert was the start to them growing their business with the support of the surrounding community. Today, some 18 years later, John's Service Centre is still going strong. In fact, if you ask any local in a 10-20 km radius of their workshop in Montague Gardens, where the best service centre is, you will, most times, hear them say, "Johns, of course!".
THE AMAZING TEAM
John's Service Centre's family is made up of: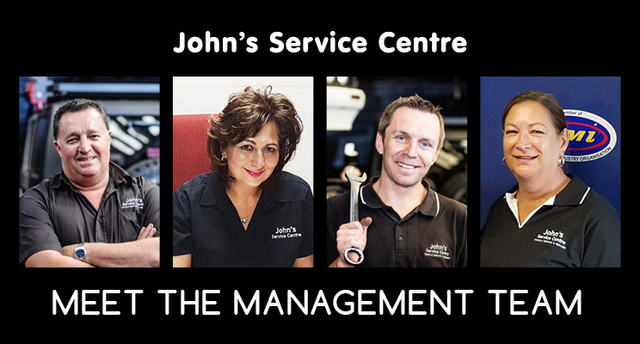 The Management Team
JOHN: The Owner
MARIA: The Financial Administrator
ANTON: The Workshop Manager
CATHI: The Admin Assistant
The Workshop Team
NAZEEM & ISAAC: The Skilled Mechanics
NKOSI & JP: The Semi-Skilled Mechanics
MUSTAFA & BERENISE: The General Workshop Assistants
WHAT ALL DOES JOHN'S SERVICE CENTRE OFFER?
At John's Service Centre, their service is guaranteed, and whether your vehicle is diesel or petrol, privately or fleet owned, their service offering is wide and they cover all makes of vehicles.
At John's Service Centre they also offer their free 73-point safety check, which includes:
Regular maintenance services
Major maintenance services
Mechanical repairs
Engine overhauls
Gearbox repairs
Water pumps
Cambelts
Vehicle diagnostic analysis
Radiators
Cylinder heads
Auto electricals
Clutch & brakes
Suspension repairs
Diff repairs
Shocks
Wheel bearings
CV joints
Tie rod ends
Ball joints
Drive shafts
Carburettors
All vehicle related repairs


WHAT DOES A SERVICE INCLUDE?
Your vehicle should be serviced once a year or every 10 000 km for Diesel and every 15 000 km for Petrol.
All John's Service Centre's work is guaranteed and their parts too under the manufacturer's warranty.
There are two types of service options available:
MAJOR SERVICE
Oil Filter | Air Filter | Plugs | Micro Filter | Engine Oil | Fuel Filter
MINOR SERVICE
Oil Change | Oil Filter | Engine Oil
If you're in need of a vehicle service, or simply want to have your car checked out for any reason or repair, just connect here with John's Service Centre in Montague Gardens, Cape Town.
To further stay connected with everyday news and helpful tips, follow us.