Up to a few months back, I was dead against resort holidays. I liked, and still do like, adventure holidays. I want to experience new cultures, have the odd adrenaline rush, do a lot of exploring and well, not be bored. Lounging around a pool, I thought, was not my thing, until my visit to Mauritius.
My girlfriend talked me into a resort holiday and, because I love her very much and trust her advice, we jetted off to Mauritius for a seven-night stay Hotel Riu Le Morne on the south west corner of this amazing island.
Easy travel for a Mauritius holiday
The flight from Jo'burg took just four hours. It's almost the perfect flight time – enough to have a meal, a couple of drinks and watch a movie.
The time zone difference is hardly noticeable and because you're staying at a resort, who cares if you go to sleep at two in the morning and get up at ten.
We had booked an all-inclusive package – all drinks, meals, accommodation and use of most of the sporting and leisure equipment was included. No cash, really, no cash needed.
Our hotel had seven restaurants and as many bars. Food and drinks were available 24/7. Time became irrelevant.
To be honest, I expected mass produced mediocre meals. I'm a foodie – I appreciate taste, texture and presentation. I like to dine in a pleasant environment conducive to good conversation and the service must be good. Yip, my standards are very high and I am frequently disappointed.
Hotel Riu Le Morne
Well, Hotel Riu Le Morne exceeded every expectation I had. The quality and variety of the food was simply amazing. The resort holiday became a gastronomic experience too.
The hotel catered for guests from Europe, India, China, Africa and the Americas. So, the restaurants served Italian pasta and pizza, an array of delicious Indian curries, English and Continental breakfasts, seafood of every kind, an amazing assortment of fresh pastries and breads, eastern noodles and stir fries, fresh fruit and more cheeses than I have ever seen in one place.
The waiting staff served wine and Champaign on request and the delicious Mauritian Phoenix Beer was constantly on tap. Soft drinks and freshly-squeezed fruit juices abounded.
The restaurants themselves were incredible. There were three speciality restaurants that required a reservation and the other family restaurants were happy places to be.
Our room was huge with simple décor. No problem walking beach sand into the room with a dripping costume. The bathroom was elegant, sparkling and large.
Yes, I did spend many hours around the pool and lounging on the beach. It was awesome! I don't think I have ever relaxed so much on a holiday. The hardest decision of every day was what cuisine to try at the next meal.
Lots to do on a Mauritius holiday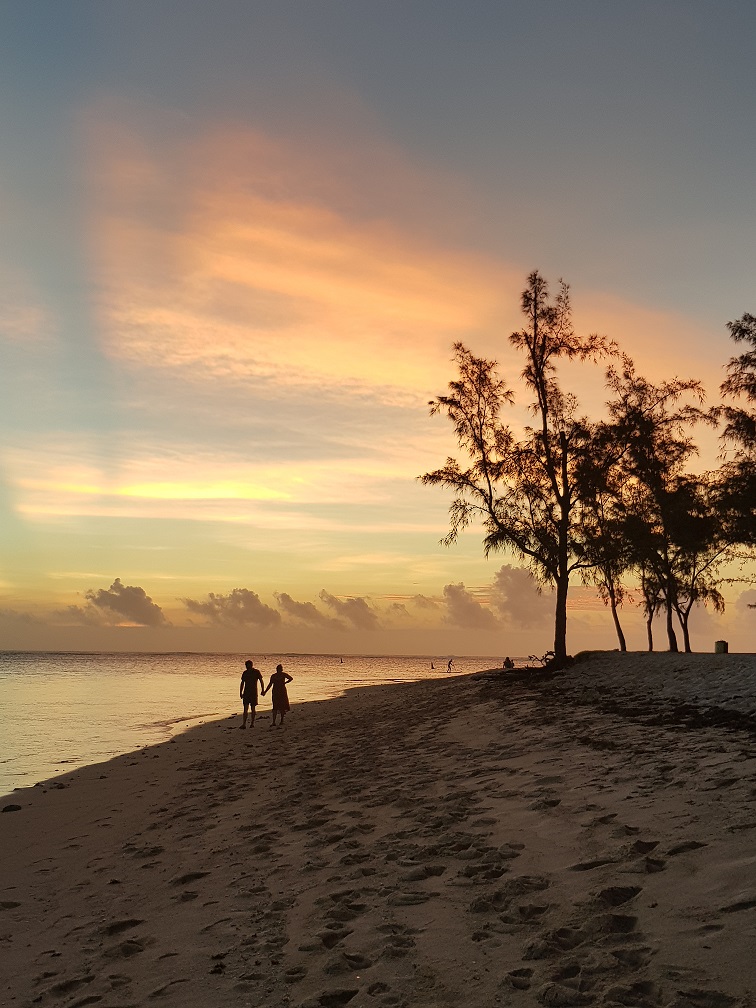 And to top it all I had plenty of adventure. I spent hours every day snorkelling on the amazing reefs. My girlfriend and I went out on the SUPs and we hiked up the Le Morne Mountain. In fact, judging by our fitness watches, we did as much exercise each day like we do on a busy day at home, including a strenuous session at the gym.
I should point out though that quite a lot of the walking involved trips to and from the bars!
We hired a car for two days and visited historical Port Louis as well as the sophisticated interior and stopped at a few quaint restaurants and shops in the small villages that dot the coastline.
All very enjoyable, but we were most happy at the resort.
Mauritius is a truly beautiful island. The dense green tropical foliage contrasts with the brilliant white beaches, which in turn compliments the azure ocean. The mountains are spectacular. The birdlife is fascinating and the reef fish mesmerising.
I almost always end my articles by saying "I can't wait to return", but with Mauritius, I am already planning and saving for my next trip!