Amongst all the chaos and uncertainty in our world right now, it is refreshing to find a business that has embraced nature and a genuine down-to-earth way of living. They have done this through their retail and public nursery.
Alimandi, situated off the Klapmuts turnoff in Paarl, is a family-owned and run business. Brothers, Pieterjan (PJ) and Oeloff du Plessis, together with Maresa Samuel, bring over 12 years of experience within the landscaping and nursery industry. They believe in a sustainable lifestyle and want to impart that element into every client's life as best they can. Their passion can clearly be seen in the quality of their plants and the way in which they work with their customers.
Alimandi specialises in Indigenous, Local and Water-Wise Plants, Plant and Tree Sourcing, Project Management, Consulting, Landscape Management and Design, and now open to the public with their Succulent Trading Post at Klein Joostenberg, Stellenbosch, as well as an Online Shop.
OPEN TO THE PUBLIC
For many years, Alimandi only catered to wholesalers and retailers, but when they realised there was a need from the public for quality succulents and other water-wise plants, they explored how they could expand their offering.
After much chatting, whiskeys and 'kuiers' with the owners of Klein Joostenberg, they agreed that Alimandi could carve out a space on their property for their Succulent Trading Post.  Within a few weeks, they were ready to trade and opened to the public. Right now, even in our lockdown, Alimandi is able to trade and supply plant and garden lovers with their amazing quality-grown succulents and other water-wise plants through their public and retail nursery.
And, if you can't get down to Klein Joostenberg, they have just launched their Online Shop, where you simply choose the succulents you want, pop them into your check-out basket, pay and they will deliver.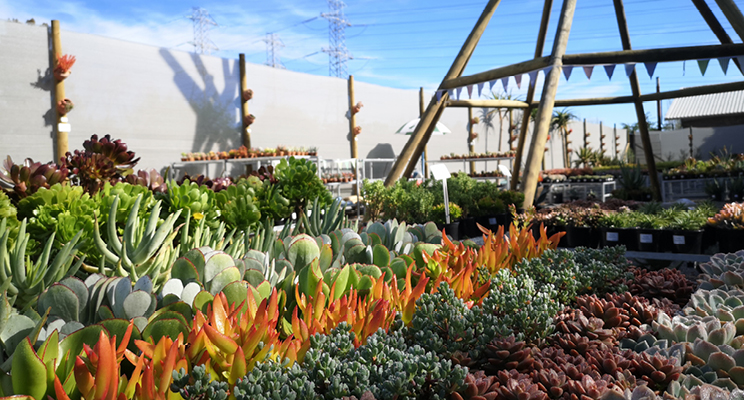 SPREADING THE LOVE – SHARING THE LEKKER
With lockdown affecting everyone, and not only businesses but also our fragile emotional state, Alimandi have started the initiative #dontbekaksharethelekker. Along with a client, they are encouraging all South Africans and even further beyond our borders, to reach out to a friend, family member, customer, or anyone you feel simply needs a willing ear.
Sometimes, that is all it takes – just a chat and a laugh – knowing that we will all get through this and this too will be a distant memory soon.
To connect with Alimandi, find out more about what they offer through their nursery and support their #dontbekaksharethelekker, head on over to their website or Facebook page.
To keep up to date with all local news, be sure to follow us on social media – links below. Or if you want to advertise.