The world, it is a changing! And, along with it so are the types of suppliers we need to have around us. Digital Transformation should be part of your business and if it isn't, now is the time to start.
One such supplier is Cloudbox, an innovative pioneer in the IT industry, who have a highly experienced team whose mission is to help their clients work smarter through their Digital Transformation journey.
WHAT'S IN THE BOX?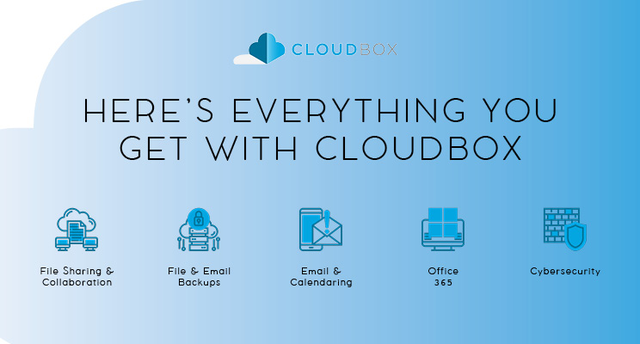 File Sharing & Collaboration
Highly secure data sharing.
File & Email Backups
Never lose an important email or file.
Email & Calendaring
Have access to secure communication from any device.
Office 365 Productivity Suite
Simplify collaboration, networking & work from anywhere.
Cybersecurity
Never fall victim to hackers with built-in Antivirus, Email Security, Website filtering and URL protection
WHAT ELSE CAN CLOUDBOX OFFER?
If you don't want to take the entire box of goodies, you can opt for standalone solutions, such as:
FILING STORAGE & SHARING
Unlimited Storage
Securely Share Files
Automatic, instant back-up
GDPR Compliance
In-depth audit and logging
Easy deployment and control
File synchronisation across any device
Safest and most secure
Control your business information
HOSTED PBX BUSINESS PHONE SOLUTIONS
Cost-Effective
Multiple Ways To Be Connected
Great Call Quality & Voice Recording
Easy Bill Management
IT SUPPORT AND NETWORK MANAGEMENT
Automated Proactive Support
Onsite resources
Network Monitoring & Alerting
Security Management
Guaranteed Response Times
Project Management Services
Hardware Procurement
Patching & Software updates
Preventative Maintenance
Monitoring
AZURE & TERACO CLOUD SERVERS
High-performance cloud servers that are flexible and sized to what your business needs:
Datacentre Choice: Microsoft Azure or Teraco
Ultimate Reliability
Scalability & Flexibility
Cost-Effectiveness
ADDITIONAL SECURITY SERVICES
Managed Firewalls
Advanced Email Threat Protection
No matter whether you are a start-up or an established business, it may be time to try a new box out!

GET IN TOUCH TODAY and find out how they can guide you through your Digital Transformation journey.
And, be sure to follow us on our SOCIAL MEDIA PLATFORMS to keep up to date with the latest news.